New Flagship store behind-the-scenes interview
There's a Master Hatter inconspicuously crafting his own special brew of magic smack-dab in the middle of the world's largest central business and media district.
The newly relocated Worth & Worth flagship store and atelier can be found at Madison and 57th Street, on the Sixth floor of a tony midtown townhouse that encapsulates only privately held and bespoke luxury brands, a feat that exists nowhere else in New York City. The newly imagined space, based on the dramatic vision of Orlando Palacios, complete with private elevator lift into the Atelier — steam and smell from the 19th century hat presses filling the hat floor — feels like stepping through the wardrobe and into another world…
Orlando Palacios presents an aesthetic both wild and refined, his artistic inclinations constantly firing at rapid speeds to create something unique and beautiful. His vision for the store was achieved with the help of architect and old friend Charles Matz, who has always identified with Orlando's sense of theatricality and playfulness
Take a peek inside the folly and get to know the creator a little better, with a behind-the-scenes interview on the genesis of the new Worth & Worth brick and mortar, and hopefully a little of the madness will rub off on you…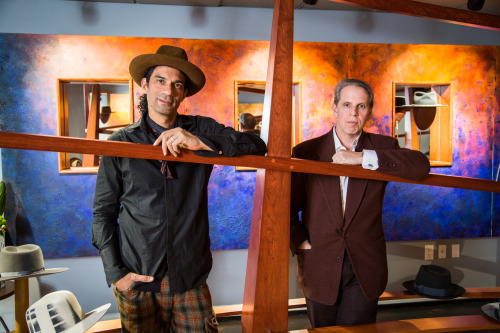 A conversation between Orlando Palacios, the artist and maker, and Charles Matz, the architect that helped him achieve his vision for the new Worth & Worth flagship store and atelier.
How did the two of you meet?
Charles Matz: In Manhattan there was a community of artists — at 601 West 26th St. there used to be spaces dedicated to shops — he was sculpting, I was ensconced in building manufacturing. It was quite a tight-knit community. He was living on 37th St. and I was down on Lafayette. We met in the middle!
Orlando Palacios: I have a deep background in manufacturing and Charlie was building these incredible sculptures at the time. We had a sense of humor and could easily bounce ideas off each other. Everyone in our group of artists was just a little off, but that's what kept it going. But Charlie and I both understood that when it came to business, it didn't matter what we looked like, we'd nail it.
What drew you to each other?
Orlando Palacios: Like-mindedness. We were kids playing — we had the whole of New York as our playground. It was such a collaboration, we'd all build together, true camaraderie. I think that's lost now, disciplines have become so filtered.
Charles Matz: A sense of entrepreneurship and the ability to work across a variety of mediums, from woods to metals. A sense of history, a sense of narrative, and a lot of playfulness! We've always worked with folks at the top of their field, and even though we both own our own companies we're not afraid to get on the table saw or help someone else work on an edgier project.

...you feel the sweat and love that has been put into it — it's not something that's just stamped out.
How does your work reflect your values?
Orlando Palacios: It's important to see the hand of the maker. It's part of what I do with my hats. When you pick one up, you feel the sweat and love that has been put into it — it's not something that's just stamped out.
Charles Matz: We're very interested in craft, the way things are made, and achieving the highest possible class — in terms of the material, finish, and intention. On one end you have highly-finished machine components, digital and 3D manufacturing, and on the other end you have carefully handmade things. We're interested in a story, a narrative — the idea is to show the softness, the irregularities, to show the pattern of process; how everything is made.
How did that influence the new store?
Charles Matz: We both felt strongly about reinventing the experience people have on the floor, creating dynamics that allow for participation on a higher level. There are a lot of things in place that work really well for the experience of people choosing something as personal as a hat. The centerpiece is something that could never be machined. The shape is clearly the crown, the top part of a hat abstracted. It represents a tornado — as it spirals up, the hats go with it. The idea was to give physicality to Orlando's energy — as an author, as an artist, as a craftsperson. Orlando Palacios: El viento!
Charles Matz: El viento is what we've been calling it, the nickname means wind in Spanish. The structure keeps the shop open — we had a lot of conversations about not having people's backs turned towards each other. On the street there's a social agenda, everyone's always looking down or looking away. We wanted to make a space using the hats so people could make connections. It's much more experiential than stuff lining the walls. Orlando Palacios: This side of fifth avenue recognizes and has an understanding of fine art. We're able to bring in our madness and keep our spirit through subtle references a cross-section of people would appreciate. A conversation we had was about when a seller goes away — you saw that customers would interact, and sometimes end up selling to each other.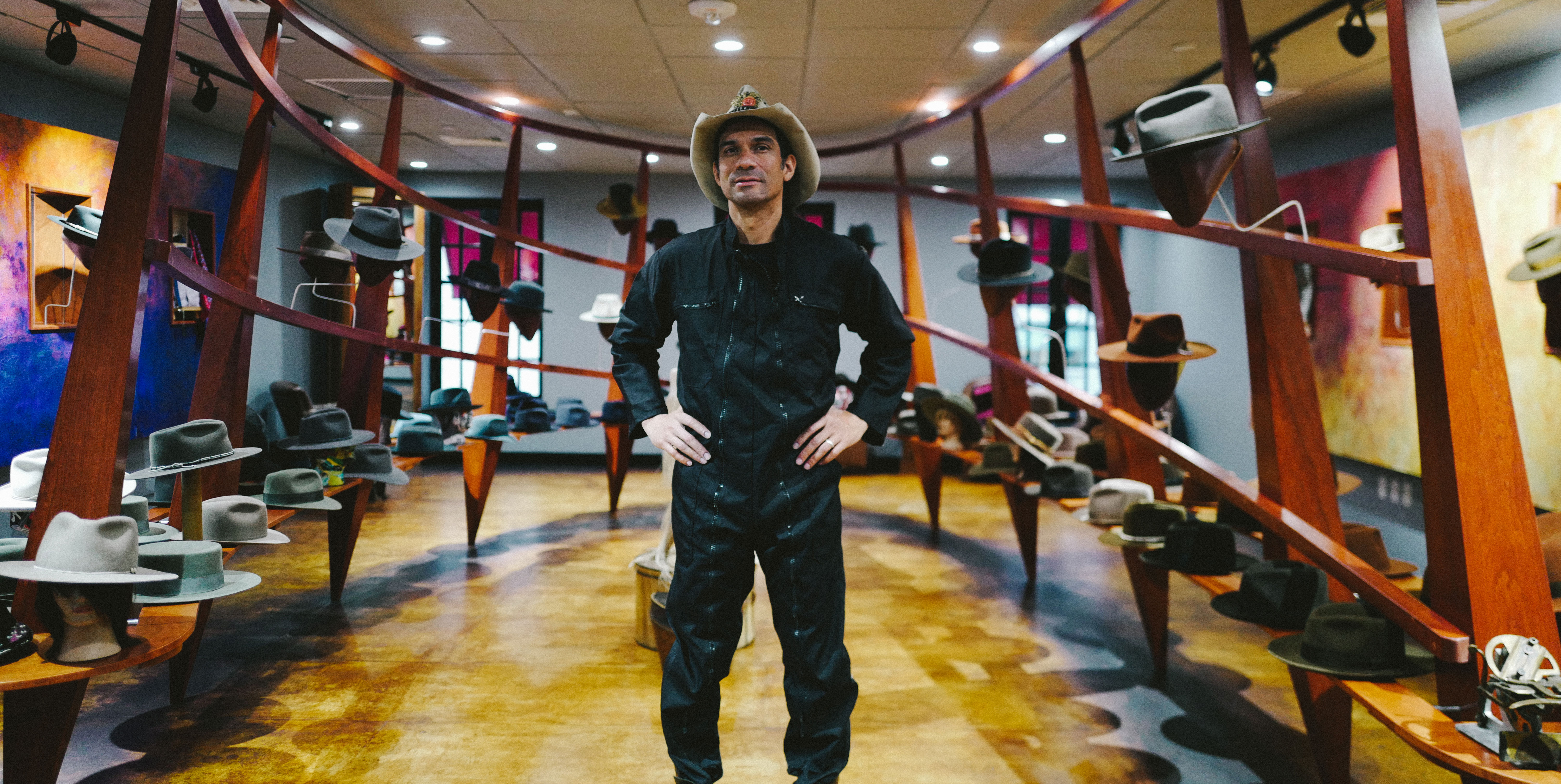 What makes someone want to buy a hat today?
Charles Matz: Maintaining an energy, in a way that multiple tiers of clientele can understand. Also give it some theatricality. There's theater in wearing hats and putting on edgy clothes. Right now the higher-end brands are tending to make more homogeneous their stocks, and what we do is in direct counter to that, really. We both love music and the energy that comes out of performance — the confidence, the theatricality. We have huge passion for music and the kind of journey it can take you on, in the sense that it can put you in another world, suspend belief.
Orlando Palacios: Individuality. You can trace fashion all the way back to when humans first needed clothing, but hats remain a discretionary element in the modern age. A hat today reflects the true essence of its wearer far more than a pair of trousers, shoes, or a tailored jacket. To wear a hat gives a genuine statement of character and personality in our time.
What keeps you grounded?
Charles Matz: We have a lot of fun improvising together. A lot of people get very cynical — Orlando has never exhibited that cynicism.
Orlando Palacios: We trust each other. I don't care who you speak to, all artists across the board have confidence issues, we second guess ourselves. Charlie, helps me keep fresh eyes — he throws me a direction, a verse, and I can keep the tune. And we can handle pressure like nobody! We have our experience, our surety.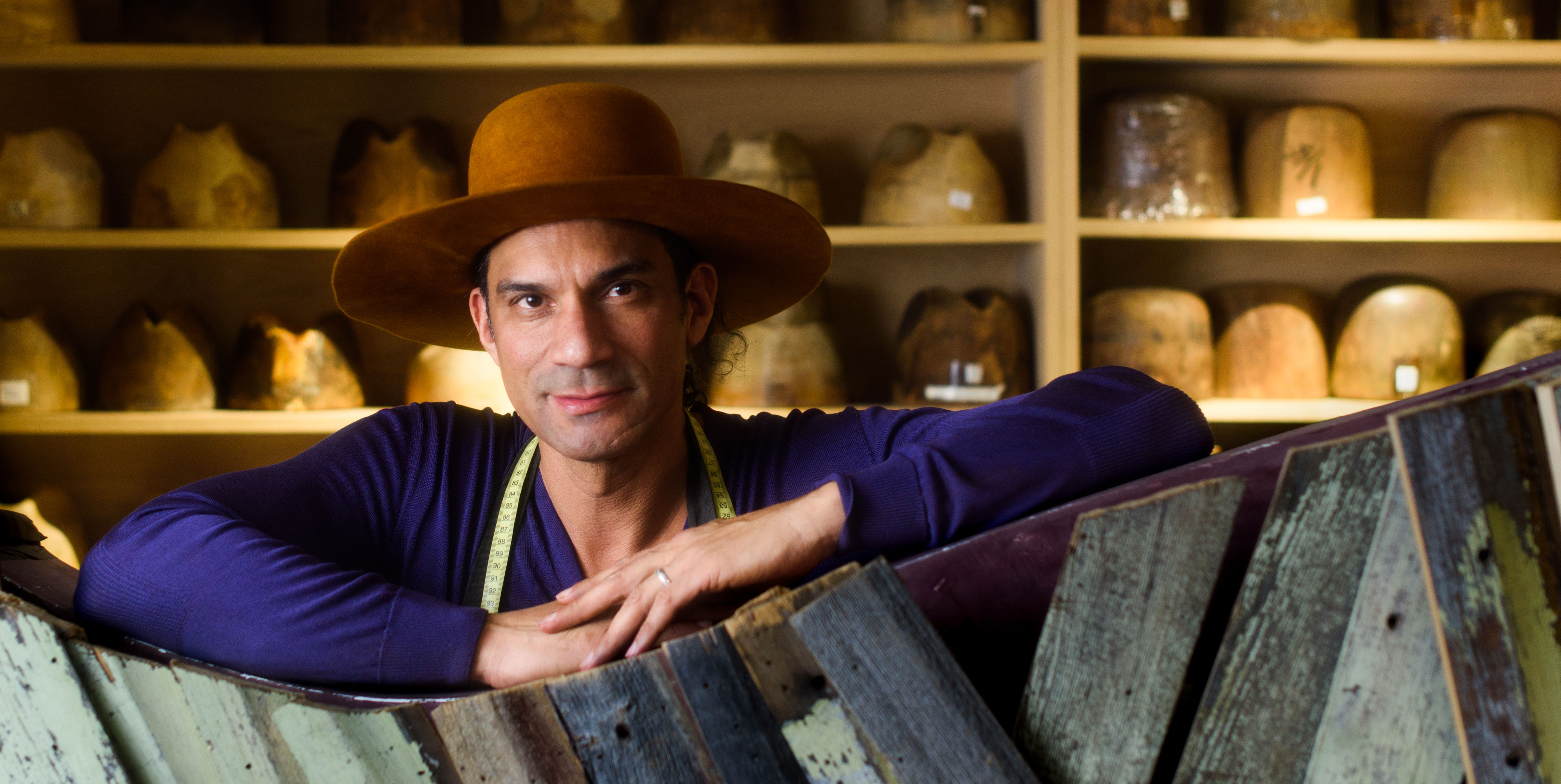 WORTH & WORTH BY ORLANDO PALACIOS
New Flagship store and atelier
50 EAST 57 STREET
6TH FLOOR
(between Madison and Park Avenue)
NEW YORK, NY 10022
212 265 2887